Episodes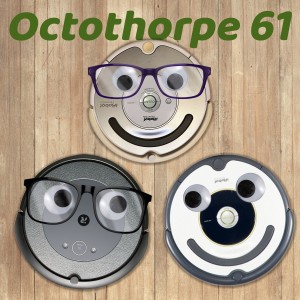 Thursday Jul 07, 2022
Thursday Jul 07, 2022
John has a hat on, Alison is taking the baton, and Liz twirls.
Please email your letters of comment to octothorpecast@gmail.com and tag @OctothorpeCast when you post about the show on social media.
Content warnings this episode: COVID-19 (chapter 2)
Letters of comment

Chris Garcia
Andrew January
Roman Orszanski
Duncan McGregor and cDave on Twitter
Fran Dowd
Farah Mendlesohn

Octothorpe COVID Round-Up
The Hugo Awards' 25% rule
Picks
Interactive Fiction
Credits

Cover art: Robots by Alison Scott

Alt text: Three round robot vacuum cleaners on a wood panel floor in a triangle formation. The lower-left one has glasses like John's and looks like it's open-mouthed; the upper-centre one has glasses like Alison's and looks like it's smiling; the lower-right one has no glasses like Liz and looks like it's smiling. The text "Octothorpe 61" appears above the robots.